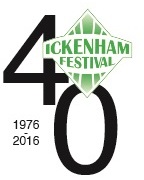 Ickenham Festival
Festival Calendar
Ickenham Festival Week 2016
There are over eighty events in Festival Week 11-19th, June 2016.
You need our full programme to see all the details of open gardens, walks, shows, sales, sports.....
You can buy a programme from many Ickenham shops: Flowline, Sophisticut, Maison du Soleil, Uxbridge Golf Club, Horticultural Hut, Sherrys, Costcutters, Winchester,
Euros, Bikewise, Swakeleys Estates, Coopers, Tichenham Inn, Williams, Londis, Fox and Geese, Aylsham Food & Wine, Naz Hairdressers, Glebe Food & Wine
Also on sale at the Library , or from any member of the Festival Team.
If you can't get one any other way then use the "Contact" button to email us and we'll get one to you!
Sat 18th June: Ickenham Festival Day, Gala Procession, Gala Day, Gala Concert
Selected Other Ickenham Festival Events
All Week: Treasure Hunt - click link for answers

Sat 11th June: Jumble Trail, Restart Party, Glebe Fayre, BBQ & Band at The Fox

Sun 12th June: Ickenham Hall Open Day, "Danny Champion of the World"

Mon 13th June: Teddy Bears Picnic, Library Quiz, History Talk

Tues 14th June: Church Tours, Shakespeare and Democracy, Natural History Talk

Wed 15th June: Arts & Craft Exhibition, Bughunt, Sports Fun, History Walk

Thurs 16th June: Uganda Concert, Family Ramble

Fri 17th June: Glebe Vs Breakspear - Mums' netball, Comedy Bunker (Tickets available here)

Sun 19th June: Ickenham 5 Race, Bike Ride, Duck Race

---

Later Festival Events in 2016

Sat 16th July 2016, Festival Ruby Ball - 40th Year celebration of Ickenham Festival
Sat 17th September 2016, Jumble Sale, Village Hall
November - TBC - Quiz Night
Fri 9th Dec 2016 - Festive Community Night
For more information about any upcoming events please contact us via the "Contact Us" link above.
(All the above dates are as currently planned, and subject to change)
---
Past Events
Fri 26th February 2016, Ferret Race Night - Ickenham Village Hall
Sat 23rd January 2016, Burns Night - Douay Martyrs School
Sat 19th December, Opening of Coopers Estate Agent - raffle in aid of Festival Christmas Lights
Fri 11th December, Ickenham Festive Community Night, All over Ickenham
Fri 13th November, Quiz Night, at Glebe School Hall
Sat 19th September, Grand Jumble Sale, Village Hall
Sat 20th June, Evening Concert with Fireworks, Vyners Swing Band & Buzz Lightweights
Sun 7th June 2015, Ickenham Five Mile Race, Swakeleys Park
Fri 10th April 2015, Ferret Race Night
Sat 23th January 2015, Burns Night
Fri 12th December 2014 - Festive Community Night
Fri 14th November - Charity Quiz Night
Sat 18th Oct 2014 - Grand Jumble Sale
Thu 9th Oct 2014 - Biannual Public Meeting
Sat 7th June 2014 - Sun 15th June - Festival Week
Sat 14th June 2014 - Gala Day
Fri 25th April - Bollywood Night, Vyners School Hall
Sat 25th Jan 2014 - Burns Night - Douay Martyrs School Hall
Fri 6th Dec 2014 - Festive Community Night - all over Ickenham
Fri 15th November - Quiz Night, Village Hall
Sat 21st Sept - Jumble Sale, Village Hall
Sat 21st Sept - Swakeleys House Open 10am-4pm. Part of Open House London
Sun 15th Sept - Ickenham Five Mile Race, by Hillingdon Athletic Club (in association with Ickenham Festival)
Sat 15th June 2013, Evening Gala Concert, Swakeleys House
Sat 8th June 2013, Free Folk Afternoon, Compass Theatre
Fri 7th June 2013, Folk Ceilidh, Ickenham Village Hall
Thu 6th June 2013, Folk Show, Uxbridge Folk Club
Fri 26th April 2013, Bollywood Night, Vyners School Hall
Fri 8th Feb 2013, Ferret Racing Night, Village Hall
Sat 26th Jan 2013, Burns Night, Douay Martyrs School
Fri 7th Dec 2012, Festive Community Night
Fri 16th Nov 2012, Quiz Night, Village Hall
Fri 19th Oct 2012, Festival Public Meeting, St Giles Church Hall
Sat 6th Oct 2012, Race Night, Village Hall
Sat 15th Sept 2012, Grand Jumble Sale, Village Hall
Sat 16th June - Sun 24th June 2012, Ickenham Festival 2012
Sat 25th February 2012, Bollywood Night
Fri 3rd February 2012, Ferret Racing
Sat 28th January 2012, Burns Night, Douay Martyrs School
Fri 9th December 2011, Ickenham Festive Community Night
Fri 18th November 2011, Quiz Night, Village Hall
Sat 8th October 2011, Race Night, Village Hall
Sat 1st October 2011, Jumble Sale, Village Hall
Sat 18th June 2011, Big Band Night at Swakeleys House
Sat 12th March 2011, Bollywood Night , Vyners School Hall
Sat 29th January 2011, Burns Night, Douay Martyrs School Hall
Fri 10th December 2010. Festive Community Night
Fri 19th November 2010, Charity Quiz Night, Village Hall
Sat 2nd October 2010, Charity Race Night
Sat 18th September 2010, Festival Jumble Sale, Village Hall
Sat 11th September 2010, Biannual Public Meeting
Sun 12th June 2010 - Sun 20th Jun 2010, Ickenham Festival 2010
Sat 20th March 2010, Family Barn Dance, Vyners School Hall
Fri 26th Feb 2010, Ferret Racing Night, Village Hall
Sat 30th Jan 2010, Burns Night, Ickenham Village Hall
Fri 11th Dec 2009, Ickenham Festive Community Night
Sat 14th Nov 2009, Quiz Night, Village Hall.
Sat 3rd October2009, Festival Race Night, Ickenham Village Hall
Sat 12th September 2009, Grand Jumble Sale, Ickenham Village Hall
Sat 11th July 2009, Swakeleys House Concert
Sat 4th July 2009, Bollywood Night, Vyners School
Tue 2nd June 2009, Community Concert, Compass Theatre
Tues 19th May 2009, Childrens' Discos, St Giles Hall
Sat 14th March 2009, Festival Family Barn Dance, Vyners School Hall
Fri 6th February, 2009, Ferret Racing Night.
Fri 5th Dec 2008, Ickenham Festive Community Night
Sat 22nd November 2008, Quiz Night, St Giles Hall
Thu 16th October 2008, Public Meeting, St Giles Hall
Sat 4th October 2008, Horse Racing Night, Village Hall
Sat 13th September 2008, Grand Jumble Sale,
Sat 14th June 2008, Ickenham Festival Gala Day,
Sat 7th June 2008 - Sun 15th June 2008, Festival Gala Week,
Tues 3rd June 2008, Boys & Girls Discos, St Giles Church Hall
Sat 8th March 2008, Spring Barn Dance, Vyners School Hall
Satu 2nd February 2008, Ferret Racing, Village Hall,
Fri 7th December 2007, Ickenham Festive Community Night
Sat 24th November 2007, Festival Quiz Night, St Giles Church Hall
Tues 20th November 2007, Boys' Night, St Giles Church Hall
Tues 6th November 2007, Girls' Disco, St Giles Church Hall
Sat 6th October 2007. Festival Race Night,
Sat 15th September 2007, Festival Grand Jumble Sale
Sat 14th July 2007, Evening Concert "Music on a Summers Evening",
Sat 10th March 2007, Family Barn Dance
Tues 13th February 2007, Girls' Disco,
8th December 2006, Ickenham Festive Community Night
Thurs19th October 2006, Public Meeting
Sat 7th October 2006, Race Night,
Sat 30th Sept 2006, Ickenham Festival at Village Hall Open Day
Sat 16th September 2006, Jumble Sale
17th June 2006, Festival Gala Day,
10th-18th June 2006, Ickenham Festival Gala Week,
Sat 18th March 2006, Family Barn Dance
---